How do you get a child to take care of their teeth? The answer is toys! We all know how much kids love toys, so why not include a dental-themed toy in the mix. This will be helpful for any child who might have been nervous or scared about going to the dentist, and it can also help them develop good brushing habits from an early age. We are sharing our top 5 favorite toys that promote dental health and encourage better oral hygiene in this post.
1. Play Dentist and Doctor Kit
This kit comes with everything you need to play pretend dentist. Kids can brush, examine, take temperatures, and more with this cute kit. This is a great gift for the child who has everything! Give the gift of dental health with the "Play Dentist Kit." Whether you're looking for something fun and unique to give a mom-to-be or trying to cross something off your list early, this would be a great all-in-one toy for your kids. Pretend play is a great way to get your child to LOVE going to the dentist.
2. The Cutest Tooth Fairy Kit
With so many great dental toys to choose from for children, there's one product that absolutely tops the list – the dream toy, tooth fairy mouse, and tooth box combination! Not only is it super cute and fun, but it also features a lot of great features. Kids can place their wobbly tooth in the special tooth treasure box before they go to bed which ensures they won't lose it while they're asleep. Plus this set has a pretend tooth fairy mouse carrying a back pack, ready to take away all those lost teeth! If you're looking for an adorable dental toy for your kid this year, then this Dream & Tooth Fairy Matchbox creation is sure to make them smile.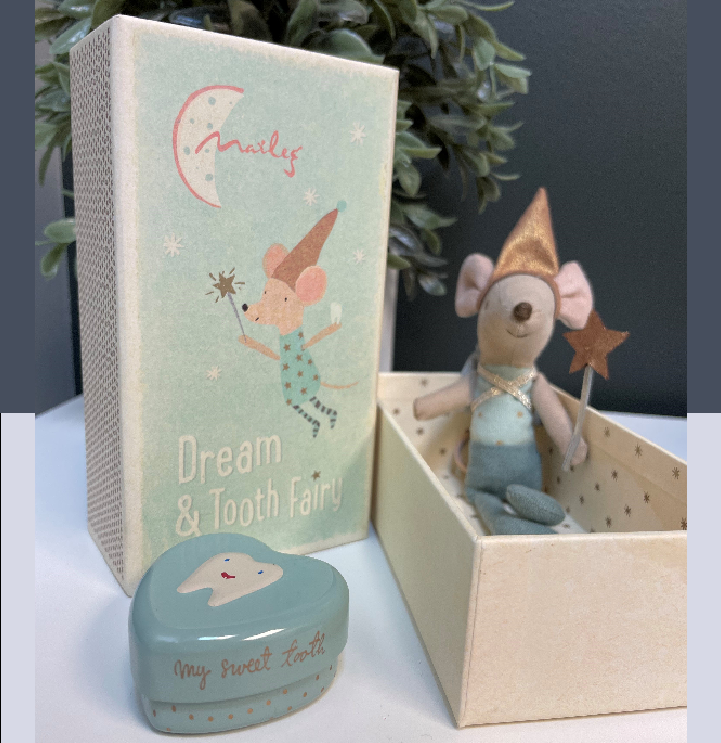 Score this gift at Sugarboo&Co.
Check out these Letters from the Tooth Fairy, too!
3. A Tooth Fairy Pillow
A Tooth Fairy Pillow This little pillow is designed to look like a tooth, and it has a pocket that holds lost teeth for the Tooth Fairy to collect. If you're a mom, you know that the tooth fairy is a big deal. And if you're a dentist, you know that the tooth fairy can be a big help. In fact, the tooth fairy may be more important than we thought. By telling your little one that the tooth fairy likes clean, cavity-free teeth, they may work harder each day to reach that goal. Help your child get the most out of the tooth fairy with a Tooth Fairy Pillow. Kids dental toys help inspire good dental habits at a young age.
4. A Fun Electric Toothbrush for Kids
Does your child have a little bit of trouble with brushing their teeth? Maybe they're too young to be able to brush on their own, or maybe they just think it's not fun. Well, you can solve both problems by getting them this electric toothbrush! It's perfect for kids because the bristles are softer and more gentle than most adults use.
Plus, some have built-in songs that play for two minutes to brush thoroughly and for enough time. Kids love playing with technology these days anyway, so you know that this will be a massive hit during bedtime.
And if you're worried about running into any issues like dental decay or cavities – don't worry; the dentist will go over all those things when you come in for your next appointment.
An electric toothbrush is an excellent tool for little ones who just might now have the dexterity to brush well enough yet.
5. Play-Doh Doctor Drill 'N Fill Set
Kids can pretend like they're dentists when they use this set, including dental tools, filling material (Play-Doh), tooth replacements, caps for cavities, among other things.
The study done by the National Institute of Dental and Craniofacial Research stated that 42% of children ages 2 to 11 have had dental caries in their primary teeth. In other words, they have had or do have cavities in their primary teeth. That is an astonishing number.
So, if your little one does need to have a cavity-filled, perhaps this play set with help ease the worry and prepare them for an upcoming dental appointment.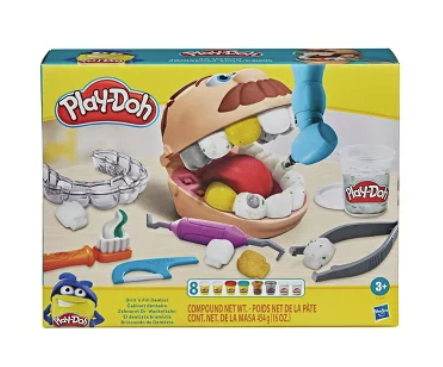 Bonus! Fun Flossers
Kids will love these flossers' fun flavors, including watermelon, grape, apple. Not everyone has an unpleasant experience at the dentist, but it's always helpful to easy the minds of young ones. Plus, we all know how important it is for kids to brush twice a day and floss regularly. But sometimes even that is not enough! Some kids out there are terrified of going to the dentist. Not only do these kids need help brushing their teeth, but they also need some dental tools that are safe and easy for them to use at home! They're fantastic because they come in different colors and flavors. Dr. Hale approves because of the fluoride coat and easy-to-use handle for small hands.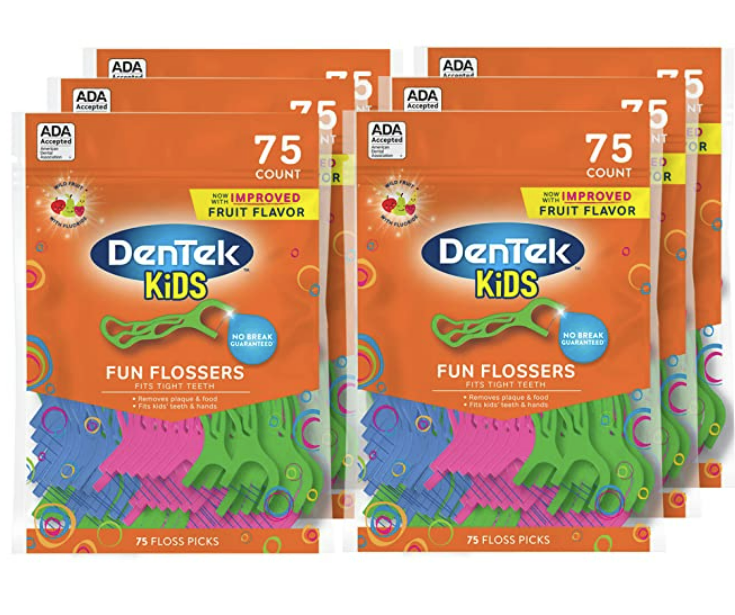 What is the best dental gift for kids?
The best dental gift you can give your child is the gift of good oral hygiene, but we know that can be a hard battle with young children.
When you're shopping for your next back-to-school or birthday gift, consider adding one of these dental-inspired toys to the list. There are plenty of fun options out there, from tooth fairy pillows to fun flossers. Each gift can make brushing teeth more enjoyable. Have you seen any other cool dental products not mentioned here?
If you're interested in learning more about how to help your little one get used to brushing day and night, reach out for more help! Dr. Hale sees children as young as one year old.
Schedule an appointment Dr. Jonathan Hale and we will make your child love going to the dentist, and brushing their teeth, too! Call us: (260) 482-3759